Do you make this mistake with your marketing?
Posted by
Jim Connolly
Today's post will show you how to avoid one of the most common and damaging mistakes, service providers suffer from online.
The problem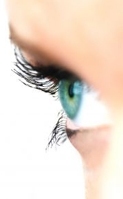 All service providers claim to offer a professional, high quality service, yet many of them make this claim, from an amateur looking blog or website.  We call this a fractured message.  It's where their words say one thing, but their online appearance says the opposite.  It's the equivalent of being offered advice on how to quit smoking, from a person with a cigarette in their mouth!
No matter how powerful your marketing message is, it's of zero value when your prospective clients don't take it seriously.  When your prospects arrive on your website or blog, the first thing that hits them is the overall look of your site.  Just think how many sites YOU visit, then click away from in seconds, because they look amateurish!  You can't afford to lose potential client inquiries like that – No one can.
Your online marketing needs to be presented to your prospective clients, via a professional looking website or blog, which reinforces the quality of your services and the message of your marketing, not a site that damages it.
The answer
Thankfully, even if you are on a restricted budget, there is an answer that I can highly recommend to you.  It's a piece of software that allows you to build websites or blogs yourself, which look amazing, without you needing to know how to write code!
The software is called Headway and it allows you to build professional looking sites and blogs, by simply dragging, dropping and mouse-clicking.  How good is Headway?  It's so good that I was able to build this site and one of the world's most popular marketing blogs using it, even though I can't write a line of code.  You can watch a video of Headway in action, here.  By the way, it's the only product I have ever been an affiliate of; that's how highly I value it.
Building your online marketing on an amateur looking site or blog, is worse than worthless to you.  If it was worthless, it would simply provide you with no real value, however, working off an amateur site will actively damage your reputation too.
The bottom line: Your website or blog is the foundation of your Internet marketing.  It's crazy to market professional services, off an unprofessional looking site.  It's also totally unnecessary, thanks to Headway!
About the Author: Jim Connolly has worked in marketing for 24 years and had his own successful marketing business since the mid 1990's. Jim is known worldwide for his ability to help small businesses make massively more sales and boost their profits. Although Jim now works exclusively with small businesses, he has worked with people from some of the best known companies in the world. These include; The BBC, Disney, Rothschilds, Mitsibishi, Hewlett Packard, Edelman and AWD PLC plus many more. To see how he can help your small business, visit his blog at Jim's Marketing Blog.